PASSION AND A LOVE OF PERFORMANCE
Your dream job with Effgen Lapport Schleiftechnik
"Precision – Innovation – Flexibility" is the motto of Effgen Lapport Schleiftechnik. Our corporate structure allows all our employees to make it part of their daily lives. As an owner-operated, medium-sized supplier of grinding and dressing tools, Effgen Lapport Schleiftechnik is unique. Our company is an efficient, modern business. We take on the challenges presented to us by our customers and respond to market forces; we operate efficiently and protect the environment. We believe this is the key to securing a successful future for our company and employees. Apprentices and trainees currently account for around 10% of the workforce at Effgen Lapport Schleiftechnik and thus make a substantial contribution to the sustainable growth of the company.
We focus on building a strong team spirit and sense of community among our employees to ensure that Effgen Lapport Schleiftechnik continues to enjoy market success. The company's management supports this goal by encouraging long-term relationships with its employees, a harmonious working environment, and fair pay. A variety of special services complete the benefits offered by the grinding technology group. For example, we offer our employees a free shuttle bus from their home town to their place of work and back. More than 25% of the workforce currently take advantage of this service and its popularity is constantly growing. The shuttles make life very much easier – especially for our trainees who are not yet mobile or are dependent on good weather. The company bicycle scheme creates a fascinating synergy between environmentally-friendly entrepreneurship and the promotion of our employees' health. Since 2018, all our employees have been able to lease a bicycle or e-bike cheaply via a contribution from their salary – it is another cost-effective way to travel to work.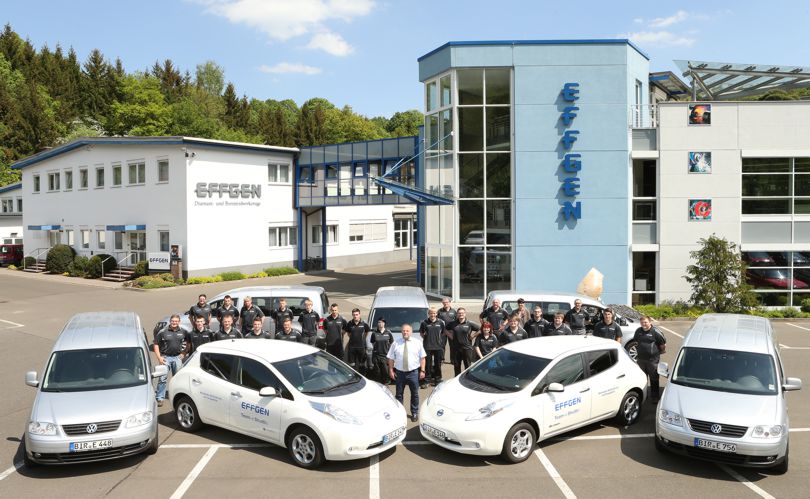 Trainees and Managing Director Ralph Effgen present the new employee shuttle in 2015
"My apprenticeship is teaching me about all the different commercial processes at the Günter Effgen GmbH. I work with every area of the company. This gives me fresh motivation each and every day.
Hannah Gerharz,
Apprentice industrial clerk